Party Plates / Carvable Molds
Size: 2.25" diam x 0.5"H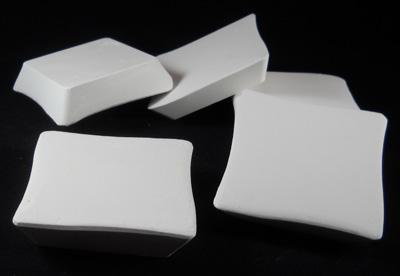 Plaster pottery mold to make small hor d'oeuvre plates.
Price:
$6.00
Shipping Weight: 1 pounds
These plaster molds facilitate making small appetizer plates. They can also be carved to make stamps or sprigs for decorating pottery.

Notes: These are sold as a 5-pack: therefore, if you order 1, 5 molds are included ; if you order 2, 10 are included, etc. If purchased to make stamps/sprigs, it's assumed you are familiar with plaster carving; carving tools are not included in your purchase.
Party Plates / Carvable Molds Specifications
This plaster mold's dimensions are: 2.25" diameter x 0.5" height. All our hump molds are made of pottery plaster and are designed to be used with clay, including earthenware, stoneware, and porcelain.
Sizes of molds are in inches; Prices are in US Dollars. Cost of shipping is based on packaged weight. This mold weighs 1 pounds.
Made in the USA.
Sample pottery, when shown, is an example of pottery made with the mold. The price shown is for the plaster mold only.