Dog Bowl Mold
Size: 7" diam x 1.8"H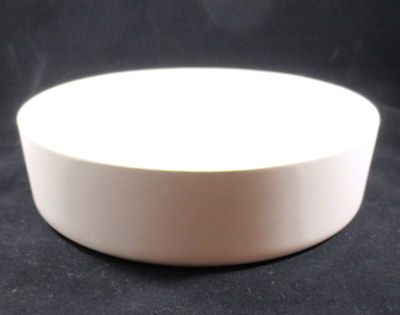 Plaster dog bowl mold, for making ceramic dog bowl dishes.
Price:
$19.00
Shipping Weight: 4 pounds
Easily hand-craft pottery dog bowls with this plaster drape mold. Ceramic dog bowls are hugely fun to make and ever-popular at craft sales, with endless ways to decorate and personalize - from adding handles to lettering and drawing with underglaze pencils, and more. Just as people prefer the elegance and warmth of ceramic tableware to plastic, dogs surely do too! Plus, use thicker slabs/coils so the bowl stays in place as one's pet dines.
Dog Bowl Mold Specifications
This plaster mold's dimensions are: 7" diameter x 1.8" height. All our hump molds are made of pottery plaster and are designed to be used with clay, including earthenware, stoneware, and porcelain.
Sizes of molds are in inches; Prices are in US Dollars. Cost of shipping is based on packaged weight. This mold weighs 4 pounds.
Made in the USA.
Sample pottery, when shown, is an example of pottery made with the mold. The price shown is for the plaster mold only.